Old Ordnance Survey Maps of Denbighshire
---
We have a range of detailed maps for Denbighshire towns and we also cover the whole county at the Inch to the Mile scale. Here are the details.
All maps are available from our On-line Mapshop.
Denbighshire County Council was formed in 1889, though the county has a history dating back to the middle ages. In 1974 it became part of the new county of Clwyd. However in 1996 Clwyd was abolished as an administrative county and Denbighshire became a unitary authority, but covering a somewhat different area. Rhyl and Prestatyn were transferred to Denbighshire from Flintshire, and Wrexham became a County Borough in its own right. This list follows the historic county area.
For a summary of the county's administrative history go to This Page

.
---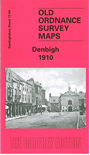 These are the maps we publish for Denbighshire: