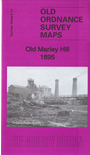 Here are the details of maps for Marley Hill:

Co Durham Sheet 06.14 Old Marley Hill 1895 - published 2017; intro by Alan Godfrey. ISBN.978-1-78721-063-9

This very detailed map covers the area now famous for the Tanfield Railway.
Features include Marley Hill Colliery, the old Marley Hill village, Gibraltar, Andrews House Colliery, Tanfield Railway, Causey Arch Inn, Causey New Row, Hedley West House, Pontop & Jarrow Railway, Wagonway Row, Longfield House, High Marley Hill, Byermoor Colliery, part of Byermoor village, Low Barcus Close.
We include 1894 directory entries for Marley Hill Parish and Tanfield Parish on the reverse.

The map links up with Sheet 6.13 Burnopfield to the west, 12.02 East Tanfield to the south.
---
Further information:
Marley Hill is today famous for the Tanfield Railway, with beautifully preserved steam trains running between Sunniside and East Tanfield, with their base and principal station near the old Andrewshouse Colliery. Our map shows the area when Marley Hill was a busy colliery village, with its own chapel, schools and shop, but appalling housing conditions. Little of this 'Old' Marley Hill survives, but it is captured here in detail on a map that stretches to part of Byermoor.
A selection of photos taken during the research for this map. Click on the thumbnails for larger images:
Here is a small extract from the map:

Each map includes a specially written essay about the area. Here is a short extract:

"...A significant pit village was developed at Marley Hill Colliery, with several rows of houses, most of them – unusually for the North East – back-to-backs. First to be built, in 1841, was the terrace known as The Hole, just N of this map, close to the Marley Hill Wagonway. There followed four rows closer to the colliery, including Shop Row, with the village's post office at its southern end, and a sequence of three rows, N to S, which were Front Row, Middle Row, and Coke Row; the last named was often called Cinderburn Row as it was regularly covered with ash from the nearby coke works. The Ordnance Survey does not name the streets here and the names are, perhaps, simply a formalisation of common usage. Further west was another row of back-to-backs at Wagonway Row. By the 1890s the cramped back-to-backs, which had upper floors accessed by ladders, were attracting concerned attention from the authorities, with Health Reports made in 1896 and 1905, and they were eventually rebuilt into standard through houses....."
---