Old Ordnance Survey Maps of County Armagh
---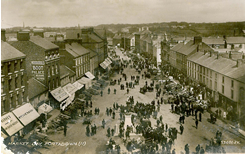 We have published just two maps in Co Armagh, but we hope to issue other titles in due course. The county is also being covered in our series of Inch to the Mile maps, which are also listed below.

All maps are available from our On-line Mapshop or from selected bookshops in the area. Each map includes a specially written introduction.

The following maps are all taken from the OS 25" maps and reduced to a scale of approximately 15 inches to the mile. They are extremely detailed, showing individual houses, details such as railway tracks, pathways, pubs, factories and even minutiae such as fountains and signal posts. Obviously they cover quite a small area, normally a mile by a mile and a half each. Click on the links below for further information on each map.
---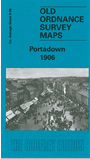 These are the detailed maps currently available in our Co Armagh series. We hope to develop this group over the next few years.
Sheet 9.08 Portadown 1906 - published 2004, intro by Alan Godfrey
Town plans Bessbrook, Crossmaglen & Keady 1906 - published 1986.
---
Inch to the Mile maps We are also publishing a series of Inch to the Mile maps for Ulster, and the following titles cover parts of Co Armagh:
Sheet 35 Coalisland, Dungannon & District 1899 - published 2010.
Sheet 36 Belfast & Hillsborough 1901 - published 2009 (covers small area of Co Armagh around Lurgan).
Sheet 46 Augher, Clogher, Aughnacloy 1902 - published 1989. Includes detailed maps of all three towns.
Sheet 47 Armagh, Tandragee & District 1900 - published 2010. Includes detailed map of Tandragee.
Sheet 59 Keady, Castleblayney & Bessbrook 1900 - published 2009. Includes a detailed map of Keady.
Sheet 70 Carrickmacross, Dundalk & Crossmaglen 1900 - published 2010
---
Most maps in the Godfrey Edition are taken from the 25 inch to the mile map and reduced to about 15 inches to the mile. They cost just £ 3.00 each. For a full list of Irish maps, return to the Ireland page
You can order maps direct from our On-line Mapshop. They are also available from various local outlets.
---
Alan Godfrey Maps, Prospect Business Park, Leadgate, Consett, DH8 7PW. Tel 01207 583388
---
The Godfrey Edition / sales@alangodfreymaps.co.uk / 14 March 2016