A History of Moseley
This short history was written to accompany our map of Moseley in 1903.
The map is available through our On-line Mapshop.
---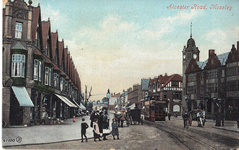 Our eye is instantly caught by the bold, jagged line that runs across this map, the boundary for a few brief years between Warwickshire and Worcestershire. Stand back from the map and it also highlights a difference between the cramped courts and terraces of Balsall Heath, and the more leisured, gentrified streets of Moseley. To the NW, too, we find a small portion of Edgbaston, a constituent part of Birmingham since 1838, although here we shall find little to talk about save its most famous landmark of all, the cricket ground.
For the most part, therefore, we will be discussing Moseley and Balsall Heath, with quite different characters and histories, but with a common heritage. Both were part of the large parish of King's Norton, which stretched to within a mile of central Birmingham and whose western border followed the River Rea. During the 19th century, as Birmingham rapidly expanded, so housing was built in Balsall Heath, the portion of the parish nearest the metropolis, with much of the area developed from the 1830s, initially with a grander social vision in mind. One landowner was the Rev Vincent Edwards, a Nonconformist minister, and his death in 1833 gave the chance for several acres of "finely wooded, rich and undulating country" to be sold off; the resultant streets – George, Tindal, Edward, Vincent etc – were named after members of the family. Several plots were acquired by a John Smith who, sensing the area's potential as a spa, opened a gentlemen's swimming pool on George Street, advertising "a continual flow of soft Spring Water [in] a retired position, about twenty minutes walk from the centre of the Town". Such social aspiration did not last – the arrival of the railway put paid to high class building E of Moseley Road anyway – and by the 1850s a fast growing population here was proving a problem to the remote King's Norton parish. In 1862 a local board of health was established for Balsall Heath, giving the township a measure of local government. Urban sprawl soon reached S as far as Brighton Road and in 1891, along with Harborne and Saltley, Balsall Heath – having rejected its overtures in 1867, 1884, and 1887 – was absorbed by what was now the city of Birmingham. By the time of this map Balsall Heath had a population of around 35,000, a sizeable town in its own right.
Moseley, however, remained within King's Norton, which also included King's Heath, Stirchley and part of Bournville. An urban district for King's Norton and Northfield (which included Selly Oak) was formed in 1898 but it was already becoming clear that Birmingham's tentacles were wrapping themselves ever tighter about the northern half of the district. Reality was faced in 1911 when most of King's Norton (and Northfield) was incorporated into the city of Birmingham, and by the 1913 revision of this map all reference to Worcestershire had been removed.
King's Norton may be large, but Moseley – Museleie – was originally one of the 18 berewicks, or small townships, in the still larger manor of Bromsgrove (Bremesgreve). This was too far away for regular worship and by 1405 a Papal Mandate was decreeing that "mass and other divine offices [could be] celebrated by fit priests and ecclesiastical sacraments administered, in the nearer and more convenient chapel of St Mary Moseley". This was a chapel-of-ease, subordinate to Bromsgrove and, later, to King's Norton churches. In 1767 it became a parish with a perpetual curate, and in 1853 this was confirmed as a district chapelry with defined boundaries and with the curate permitted to take marriages. Finally in 1866 Moseley acquired full parish status with a vicar. The dates of the church itself are unclear, although building work on the tower is thought to have begun c.1513. By 1780 the chapel was in a dilapidated condition and the nave was in danger of collapse. A public subscription was raised, and the body of the chapel was largely rebuilt. By 1823 the population was growing rapidly and a grant was made by the Incorporated Society for the Enlargement of Churches and Chapels, and there was a substantial rebuilding by Thomas Rickman (1776-1841), though this has been criticised for his 'sham-Gothic' and use of poor materials. The church was extended in 1872 to incorporate a chancel, this and subsequent work, which included a N aisle, being by J A Chatwin (1830-1907) and his son Philip Chatwin. Work in 1903 included a new reredos, but this together with much of the stained glass was destroyed by a bomb in December 1940. The church includes a vault for the local Holmes family, including the architect Edward Holmes (1832-1909), whose output included various local chapels and churches and the prestigious old Midland Bank in Birmingham. The church is noted for its choral tradition, and its Robed Choir regularly sings in various English cathedrals and abroad.
In the 1860s the southern part of Moseley's new parish was separated into a new chapelry and then parish of All Saints, King's Heath, and in 1875 a district chapelry was created to the N, with St Anne's church on Parkhill. This was designed in a 'simplified Gothic' style by the architect Frederick Preedy (1820-98). The church, largely in sandstone, boasts a 'three-stage tower with corner pinnacles and a broad spire' and the English Heritage listing notes it as a "robust design…Three stained glass windows of the mid C20 are of interest, including one which celebrates sanctity of work through depiction of the Birmingham metal trades". Other stained glass was lost through bomb damage in the war, and the church was repaired and reconsecrated in 1948. It now forms part of a united parish with St Mary's.
St Paul's parish church in Balsall Heath lies N of our map but here we note its Mission Church on Clifton Road. This, a 'brick and tile building…in the Gothic style', was designed by F T Proud and opened in 1890. It was consecrated in 1904 and assigned its own parish with a vicar in 1905. The church, which has traditionally supported Anglo-Catholic liturgy, was severely damaged by fire in 1970 and rebuilt on a smaller scale, albeit incorporating some original features. It now forms part of a united parish with St Agatha's Sparkbrook and its website notes it as "a lively worship centre in a predominantly Muslim area". Of the many nonconformist churches we can note just one, the Baptist Chapel on Oxford Road built in 1888; the design, by J P Osborne of Birmingham, had been runner-up in the architectural competition for St Agnes church, further up the road. It is now a Calvary Church of God.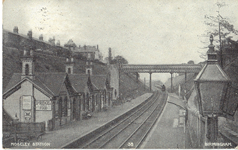 The Midland Railway's Bristol & Birmingham line is shown passing through the map. In 1840 the Bristol & Gloucester Railway opened its line as far as a temporary terminus at Camp Hill, just N of this map, and the line has always since been known as the 'Camp Hill line'. The section between Moseley and Camp Hill was difficult to construct, involving a mile long cutting, and in 1838 it was reported that the men here were "prosecuting their labours night and day as the weather permits". The original Act had specified a tunnel at Moseley to avoid disturbing the chapel, but the directors attempted to ignore this; however, their intentions were discovered and an injunction was secured by local opponents to force them to comply, and build a tunnel as required, partly through covering over the cutting they had started to dig. In 1841 the line was extended to meet with the London & Birmingham at Curzon Street and eventually the two companies (by then the Midland and London & North Western) would have a joint station at New Street. This meant that through trains had to reverse at New Street, and this inconvenience led in 1885 to the building of the Birmingham West Suburban Railway via Selly Oak. From that time the Camp Hill line lost some of its importance.
Several stations were opened on the line, but at Moseley this was hampered by the tunnel so that the village, like so many places, suffered from its earlier stubbornness. The original 'Moseley' station was therefore at King's Heath. A proper Moseley station was opened, deep in its cutting, in 1867, and the Brighton Road station followed in 1875. Local passenger services were badly affected by the more convenient trams and were suspended as a 'Wartime Economy' measure in 1941. The stations have not been reopened, but the line is still open for freight and diverted passenger trains. Woodbridge Road, formerly called Blayney Street after the local landowner, takes its name from the wooden bridge which originally crossed the tracks.
Moseley had been on a main road since the turnpiking of the Alcester Road back in 1767, although a toll-house was apparently not built here – at the junction with Park Hill – until 1801. This building was demolished in the 1870s, possibly as the road was prepared for horse trams and, from 1885, steam trams. The latter, dirty, noisy and odiferous, were never popular; Balsall Heath insisted that on Sundays they reduce speed to 3mph while passing places of worship and in Moseley the vicar was heavily involved in the Anti Steam Tram Nuisance Society. In 1903 Birmingham & Midland Tramways were still operating them, with two services, from Hill Street to Moseley – where there was a reversing loop – and from Hill Street via Moseley to King's Heath, each operating every 9 minutes; there was also a service every few minutes from Hill Street to the Coach & Horses in Mary Street, Balsall Heath. A depôt is shown at Moseley just S of St Mary's Row, and we also note a tram shelter (unnamed) where the line loops round the green. By the end of 1906, however, steam trams had been abolished throughout the city and on the 1st January 1907 the Corporation began eleven electric tramway routes, including Nrs 37 from Navigation Street to Cannon Hill Park and 40 from Hill Street via Moseley to King's Heath. A specially-built depot on Trafalgar Road, just across the border in Balsall Heath, was opened at the same time and is still standing – and in use as a climbing centre.
Kelly's directory referred to Moseley as "possessing fine scenery and containing some beautiful seats" and several of these seats, or mansions, are shown here. The best known was Moseley Hall, successor to a house built in the 16th century for the Grevis family, who had acquired the estate after the dissolution of the Monasteries. In 1768 the estate was sold to John Taylor (1704-75), a manufacturer notable for his 'moseleymagem toys' – buttons especially but also buckles, snuffboxes and other trinkets – and also a co-founder in 1765 of Taylor & Lloyds Bank in Birmingham, the forerunner of today's Lloyds Banking Group. The bank did much to support the town's rising industrialists, such as Boulton and Watt, one businessman joking that "half of Birmingham is in debt to Taylor and Lloyd", and the Taylor Estate came to own much of the land W of the Alcester Road. John Taylor Jnr built a new house alongside the old one, and commissioned Humphry Repton to landscape the park. In 1791, however, the house – then occupied by the Countess of Carhampton – was largely destroyed during the Birmingham (or Priestley) Riots. The rioters' principal cause was against dissenters (John Taylor was a Unitarian); they also burnt down his house at Bordesley Park as well as a Presbyterian chapel in Balsall Heath en route to Moseley Hall. Here they were at pains to remove the blind and frail countess's furniture and possessions, sending it away in four cartloads, before setting fire to the house. The house was rebuilt in 1796, John Taylor jnr (1744-1814) then moved in and a few years later he bought the manor of King's Norton. His eldest son John lived at Strensham Court in Worcester-shire and Moseley Hall was occupied by a younger son, James d.1852, sometime High Sheriff of Warwickshire and an Anglican, so able to give support to the local church, but was let out after his death. In 1883 the hall and much of the estate was leased to Richard Cadbury, of the chocolate family; in 1890 he purchased it and then presented the hall (which had already been used as a sanatorium) to the corporation for a children's convalescent home. It is now Moseley Hall Hospital, a community hospital which also incorporates the Juniper Centre, a national centre for mental health. The original hall is grade II listed. A feature by the road is a hexagonal dovecote, probably built in the late 18th century as part of John Taylor's development. By 1840, however, it was being used for farm storage, with the ground floor converted into pig sties. Demoliton of this and other buildings around the Lodge was mooted in 1933 but the dovecote along with a cow-shed was spared, and it is now in the care of the Moseley Society.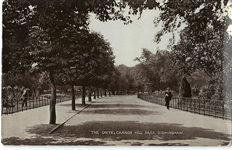 In the mid-1890s Salisbury Road was developed – cutting off Moseley Hall from much of its grounds – together with Chantry Road and Parkhill, and numerous good houses, many of them architect-designed, were built in the area. However concern over the development led to the formation in 1899 of the Moseley Park & Pool Co, by nine residents opposed to further development, and this leased 14 acres of parkland for leisure use; another 11 acres were purchased in 1959. The shareholders also built houses for themselves around what became a private park; this survives today and includes (albeit not shown here) an 18th century ice house.
Much of Moseley's development, however, dates from its rise in the late 19th century as a distinctly upmarket commuter village. Pitmaston, for example, was originally Moor Green Cottage but was rebuilt as Pitmaston c.1870 for John Charles Holder and renamed after his wife's home in Worcester. Holder was a brewer, whose Midland Brewery was in Nova Scotia Street, close to Curzon Street station; Holder's were taken over by Mitchell & Butler's in 1919 and the brewery closed soon afterwards. The family were railway enthusiasts and in 1898 built a miniature railway around the grounds, sadly not shown on the map; perhaps this was in celebration for the baronetcy awarded to Sir John Holder that year. The house was again rebuilt in the early 1930s by the architect Holland W Hobbiss in a neo-Classical style as headquarters for the Ideal Benefit Society. It is Grade II listed and was later acquired by the Church of Scientology as a regional base and training centre.
Moor Green Hall, a somewhat 'Gothick' crenellated building, was home to Arthur Chamberlain (1842-1913), an industrialist and long term chairman of Kynoch Ltd, a major Birmingham firm involved in a wide range of manufacturing, from explosives to bicycles, which would become a constituent part of Nobel Industries and later ICI. Arthur was a brother of Joseph Chamberlain, whose grand Highbury House is just S of this map. There was a mysterious attempt to plant a bomb here in 1914, and the hall would be used by the Red Cross as a military hospital in the 1st World War. Moor Green House, across the road, home to Sir John Holder's son, was used for Belgian refugees and then for military patients during the war, but was demolished c.1920.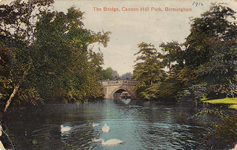 To the north of these fine houses is Cannon Hill Park, largely the gift of Louisa Anne Ryland (1814-89), wealthy daughter of an Edgbaston industrialist Samuel Ryland. She made several donations to Birmingham, but the best known is the 57 acres of meadow land, known as Cannon Hill Fields, which she donated in 1873, together with funds for its draining. It was opened to the public in September of that year and further land was later added, including 7 acres by John Holder; in 1898 several acres were acquired in order to straighten the River Rea, which runs along the western edge, and whose original line can be guessed at through the municipal boundary shown here. Later features would include the timber-framed Golden Lion inn, brought here from Deritend.
By 1903 the great estates had largely been cut up. One writer noted that "It is only a few years ago since 'The Rookery', a graceful line of trees along the Alcester Road, was felled to make way for a row of well-built shops now known as Victoria Parade. On the same estates Park Road, Park Hill, Chantry and Salisbury Roads have been cut, and in conjunction with the development of the adjoining Russell estate the Reddings will ere long be handed over to the builder…So far, however, Moseley has been an exclusive suburb, the residences being chiefly large villas – mansions better describe many of the modern homes – but there is a tendency in these days, with the development of the tramway system, to give the artisans of Birmingham an opportunity of enjoying the purer atmosphere of the district by erecting dwellings suitable to their requirements".
In the NW corner is a small portion of Edgbaston, which the Calthorpe estate had developed into a desirable residential area during the 19th century. The area here, however, was largely 'rough grazing land' and in 1885 several acres were leased by Warwickshire Cricket Club, the club secretary suggesting that the proximity of Birmingham made this more suitable than alternative sites in Rugby and Leamington. The first match, against the MCC, took place on 7th June 1886 and two months later some 6,000 spectators came to watch the county play the Australians. In 1902 a permanent stand was erected for the ground's first Test match, against the Australians; the bowler Wilfred Rhodes took 7-17, helping to rout the visitors for an 'ignominious' 36 (of which Victor Trumper made half) but heavy rain meant that the game was drawn. In 1903, the year of this map, Warwickshire came 7th in the County Championship (there were then 15 teams), their star player being the bowler Sam Hargreave (1875-1929). He was often seen as the country's best slow left arm bowler after Rhodes, and notoriously lethal on a rain-affected pitch, though he never played for England; he took 123 wickets for the county in that year's Championship but his career would later tail off, possibly through ill health. Developments across the years mean that Edgbaston is now considered the second largest cricket ground in the country, after Lords.
But this map is dominated by Moseley, with its busy centre, given added vibrancy with its monthly farmers' market. Buildings here include the Fighting Cocks hotel, rebuilt in 1860 with a pleasure ground to the rear. This was then given a bandstand but in 1901-03 the hotel was rebuilt for Holte Brewery and King Edward's Road was built across the grounds. The hotel, now Grade II listed, is a notable landmark with its octagonal clock tower and a wealth of Arts & Crafts detailing.
Despite this, one of the best buildings on the map is actually in Balsall Heath. The Moseley & Balsall Heath Institute, on Moseley Road and just N of the old county boundary, was designed by local architect William Hale (1835-1910) in 1879. Hale, five times President of the Birmingham Architectural Association, also designed (with his son) the iconic Moseley Road Baths, built in 1907 just N of this map but currently under threat. The builder of the Institute, John Bowen, was very active in the area, and had built his own house, Rochford, at the corner of Edgbaston Road and Strensham Hill, in 1884. A sculpture above the entrance of the Institute has a typical Victorian depiction of 'Industry and Art', and there are busts of Michelangelo and Shakespeare; the building, redolent of that period's thirst for self-improvement, is said to have hosted lectures by Dickens, Oscar Wilde and other great men. Today it is still in use for drama and dance classes, one occupant being the Moseley Dance Centre; for in Balsall Heath, which has had a chequered and not always salubrious reputation across the years, many institutions have always pretended that they lie in Moseley.
©Alan Godfrey, March 2015
---
Principal sources include: William Dargue, A History of Birmingham Places & Place-names (website); Alison Fairn, A History of Moseley (1973); Valerie Hart, Balsall Heath: A History (Brewin Books, 1992); Norman Hewston, A History of Moseley Village (Amberley Publishing, 2009; Victoria History of Warwickshire, Vol VII (OUP, 1964).
---
Follow this link for more details of our Moseley maps; or here for the whole Birmingham series.
You can order maps direct from our On-line Mapshop. For other information and prices, and other areas, go to The Index Page.
---
Maps in the Godfrey Edition are taken from the 25 inch to the mile map and reduced to about 15 inches to the mile. For a full list of maps for England, return to the England page. Alan Godfrey Maps, Prospect Business Park, Leadgate, Consett, Co Durham, DH8 7PW / sales@alangodfreymaps.co.uk / 18 August 2015