A History of central Birmingham
This short history was written to accompany our map of Central Birmingham in 1913.
The map is available through our On-line Mapshop.
---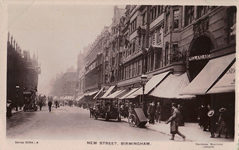 At the time of writing much of central Birmingham is a confused jumble of building sites, as construction workers demolish and reassemble New Street station, while a tramway is being carved through the city centre streets. Despite a hint of Edwardian charm in little Moor Street - opened in 1909 but with construction still underway in 1913 - the stations have always been functional, with none of the grandeur of, say, Newcastle, Bristol Temple Meads or most London termini; yet they go some way to explain how Birmingham, without the advantages of a port or of a staple industry - coal, cotton, wool, steel, finance - would grow during the 20th century into Britain's second city, overtaking Glasgow for this honour in the 1950s. By then, of course, it had fallen in love with the motor car.
The history of Birmingham's transport, in particular its canals and railways, has been explored by Barrie Trinder on our Central Birmingham 1888 map and need not be repeated here. A more general but succinct introduction is also given by Richard Abbott on our Central Birmingham 1902-11 map, which is taken from a Special Edition, with 'partial revision'. Here we will look at some of the churches that are scattered across the map, and at the features they lead us to. Birmingham, a city since 1889, only became the centre of a diocese in 1905, but its churches are as interesting as those of many a 'cathedral city'. Several, alas, have been demolished; indeed, one had already gone by the time of this map, Christ Church, built 1806-14 with a 'much criticised spire', pulled down in 1899 to make way for the enlarged Victoria Square.
Birmingham is often thought of as a modern city, but a market was granted in the mid-12th century and, for reasons that have never been entirely clear, the town developed into a major trading centre for the area. This was despite it not standing on any significant river, and possibly owed much to the rough and often inhospitable nature of the terrain to the west, where industry was developing. The Victoria County History suggests that "the town proved to be the only suitable trading centre for the Staffordshire iron and coal district", and perhaps there was also an element of neutrality, that it stood apart from the rivalry of those 'metal-bashing' towns. True, it had industry of its own, but this was to a large extent specialist; Leland found "many smiths in the towne that use to make knives and all mannour of cuttinge toles"; gun-making became a traditional industry, while bedsteads and bicycles were major products in the late 19th and early 20th centuries, but the raw and rough materials were brought in from West Bromwich, Smethwick or the myriad villages beyond. Birmingham has never been seen as part of the Black Country, and a comparison might be made with the German city of Düsseldorf, often referred to as 'the head-office of the Ruhrgebiet', though it has never been part of that industrial behemoth.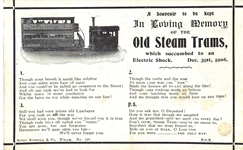 Few relics of the medieval age survive, and the ancient parish church, St Martin in the Bull Ring, was substantially rebuilt in the 19th century. A church here was referred to in 1263 but it was later rebuilt and enlarged. In 1690 the outer walls and tower were 'dressed in brick' and in 1781 the spire was rebuilt with an iron spindle running up its centre. In the 19th century there were two major restorations: in the 1850s P C Hardwick restored the tower (and removed its brick cladding) and rebuilt the spire; and in 1872-75 J A Chatwin demolished - albeit with great care - and rebuilt the rest of the church, enlarging it with new transepts and aisles. Markets were (and are) traditionally held in this area - Peter de Bermingham had been granted the first rights by Henry II in 1154 - and in the early 19th century they were more formally gathered together here, with some obstructive streets demolished. The Bull Ring became the main shopping centre of the town - a Market Hall, with 600 stalls, was opened in 1835 - and this also became a focus for political protest and the like. A modern shopping mall was created here in the 1960s but this quickly became outdated, and by the 1980s new plans were being put forward. This led to the Bullring Shopping Centre, of which the best known feature is Future System's monolithic Selfridges Building, commercially successful but overpowering and thought by some, the present writer included, to be one of the ugliest buildings in England.
From St Martin's it is just a short walk down Digbeth to Deritend, on the other side of the River Rea, once - like Bordesley - a separate village, in the manor of Birmingham but parish of Aston. After passing the Devonshire Works - once home to Alfred Bird & Sons, a firm synonymous with custard - our attention is drawn to the half-timbered Old Crown pub, at the corner with Heath Mill Lane, noted by Leland in 1538 as "a mansion house of tymber" but with claims that it dates back to the 14th century. More credibly it has been identified as the 'Guildhall and School of the Guild of St John the Baptist of Deritend', of the late 15th century, and is the one substantial secular survival of medieval Birmingham.The village had claims to some sort of independence, for a chapel, dedicated to St John the Baptist, was built on the High Street in the 14th century to serve those living in Bordesley or Deritend, although they were to attend Aston church at Easter, Christmas and on a few other saints' days. This situation broadly continued, with the church effectively a chantry chapel of the Deritend Guild; it was rebuilt in 1735 - a neo-classical red-brick building with a fairly tall tower - and restored in the late 19th century. The church contained a memorial to John Rogers, a Deritend man who helped Tyndale with his translation of the Bible, but was burnt at the stake in 1555, the first of the Protestant martyrs under Mary.
Until 1890 the congregation of St John's elected a chaplain but it was then given a parish and became a vicarage. By that time, too, Deritend also had a mission church on Heath Mill Lane, and in 1911 this was replaced by a permanent building, dedicated to St Basil though here shown simply as 'Church'. It was designed by Arthur Stansfield Dixon and is described by Andy Foster as "the finest example of his Arts and Crafts primitivism"and with a "wonderfully evocative"east end. The small red brick building, with hints of Byzantine influence, fits in neatly amongst the workshops and warehouses that cluster around, with the never-used railway viaduct a constant presence. As the population of this area declined it must have been difficult to fill one church, let alone two, and by 1939 St John's had closed, with the site sold to the city, which used it as a store before demolition in 1947. St Basil's closed in 1978 but remains in use as a youth centre, St Basil'Centre. The Harrison & Harrison organ was transferred to Worcester Cathedral as the nucleus of its nave organ.
As Birmingham grew, so other parishes were carved out of St Martin's. First and foremost was that of St Philip, formed in 1708. It is a sign of the town's early growth that an additional church was needed so early, a Commission having been set up in that year under an Act of Parliament. The church was designed by Thomas Archer (1668-1743), an architect much influenced by Bernini and Borromini, whom he must have studied on his Grand Tour. He would be better known had his career not been overshadowed by Hawksmoor, but St Philip's, built 1709-25, is one of the finest Baroque churches in the land and became the central feature of the business area of the town. During the 19th century the building was refaced and memorials removed from the outer walls but major extension came in the 1880s when Julius Alfred Chatwin (1830-1907) designed a new chancel, built in total sympathy with Archer's baroque. In the 1880s and '90s Edward Burne-Jones (who, like Chatwin, was baptised in the church) designed the glorious stained glass for the E and W windows, rich in ravishing reds and blues, and in 1905 the church became a cathedral for the new diocese of Birmingham. The building was badly damaged by bombs in the 2nd World War but fortunately the stained glass had been removed to safe storage. It is one of our smallest cathedrals but a notably beautiful one.
In the N centre of the map is St Mary's church, built 1774 as a chapel-of ease to St Martin's, partly funded by, and under the patronage of, Mary Weaman - hence the dedication. This was a large, octagonal church, designed by Joseph Pickford, but considered to show "too little steeple and too much roof"; the shape was, however, ideal for a 'preaching church'. John Wesley visited in 1786 and the curate for many years, Edward Burn, had Wesleyan sympathies, while a successor, J C Barrett, was noted for evangelical sermons which drew large congregations through the mid-19th century. The church was assigned a small parish in 1841 but it would later be affected by the development of a new General Hospital. The first hospital had been built - N of this map, on what became Hospital Street - in 1779, its principal founder being John Ash. It relocated to Steelhouse Lane in 1897, partly through the influence of a surgeon, Sir Thomas Chavasse (1854-1913), whose wife, Frances Hannah Ryland, was closely related to the Birmingham heiress and philanthropist Louisa Anne Ryland (1814-89), who bequeathed £325,000. Chavasse, who died in 1913 from complications following a hunting accident, was also friendly with the important Chamberlain family; Neville, later to be Prime Minister, would become a director and strong supporter of the hospital. Many houses were demolished in the 1890s to make way for the hospital, costing St Mary's much of its congregation, and the church lost much of its remaining function in 1921 when a chapel was licensed in the hospital. St Mary's was closed in 1925 and subsequently demolished. The General later became Birmingham Children's Hospital.
Dr Ash, original founder of the hospital, had a country house built in what was then the open countryside of Duddeston. However, he suffered from depression, never moved into the house, and eventually moved to London where he appears to have recovered. The estate was then acquired by a lawyer, John Brooke, who developed the area, known as Ashted in honour of the doctor, with the house, now converted into a chapel, as a central feature. This chapel, here St James the Less church (NE corner of map) was opened in 1791 but not officially consecrated until 1810. A short clock tower was erected above the house's portico. The Ashted estate was intended for businessmen and entrepreneurs but the development of nearby industry led to its failure and Brooke died a much poorer man in 1802. However, the chapel survived and was given its own parish (carved out of Aston) in 1853. It was largely destroyed by bombs in the 2nd World War and nothing remains save some rather drab parkland, though the situation, on a slight rise above the Rea brook, can just be imagined, sans suburbia, as a fine one for an 18th century country house.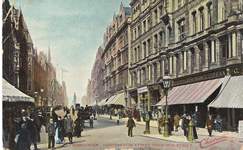 We now turn to three churches nearer the centre of the map, none of which survive. St Bartholomew's on Jennens Row was built on the site of a Mass House opened in 1687 following James II's Declaration of Indulgence, which allowed freedom of worship for Catholics. The king himself made a donation of timber and the 'Birmingham Masshouse' was dedicated to St Mary Magdalene and St Francis. Unfortunately such tolerance was not well received and the following year the 'rabble of Birmingham' pulled down the church and convent, while "ye townsmen of ye better sort"quietly stood by. St Bartholomew's was built in 1749, the land having been given by John Jennens, a wealthy landowner and ironmaster who was developing the east end of Birmingham as a middle class suburb. The church, a large Georgian 'preaching box' with a small tower-cum-cupola, was probably designed by William Hiorne (c.1712-76) and his brother David. In the late 18th and early 19th centuries the church had a fine musical tradition, with the choirs of St Bartholomew's and St Philips jointly forming a Musical & Amicable Society. The church was assigned a parish in 1847 but by that time the arrival of the railway had sent the area into social decline. Thomas Harman noted that the church was "Surrounded for very many years by a barren-looking graveyard, the huge brick-built edifice was very unsightly, and being close to the Park Street burial ground it was nicknamed 'the paupers' church'. In the 1920s the vicar allowed the church to be used as a cinema one day a week in an attempt to improve congregations but this had no lasting effect and the church closed in 1937. The building was damaged by bombs in 1942 and largely demolished the following year, though a fragment of the east end survived for a few years, perhaps as a picturesque ruin. Some fine 17th century carving of cherubs with fruit and flowers, originally belonging to the Earl of Denby, was transferred to Christ Church, Yardley Wood.
St Bartholomew's had a large parish and part was assigned to a new church, St Gabriel's, built on Barn Street, near the River Rea, in 1869. This was designed by J A Chatwin 'in an Early English style' but was badly damaged in an air raid in 1941 and closed four years later. The Bishop Ryder Memorial Church, consecrated in 1838, near the top of the map on Gem Street and here simply 'Church', was in memory of Henry Ryder, Bishop of Lichfield d.1836, noted as the first Evangelical Anglican to become a bishop, and a man with real concern for the problems of working-class Birmingham. A subscription was raised for a statue, to be placed in Lichfield Cathedral, with any balance to be put towards a church in Ryder's memory. It was designed by Thomas Rickman, with a chancel rebuilt by J A Chatwin in 1894, but was most notable for an extraordinary high tower, a notable landmark above the Gosta Green terraces. It was demolished in 1960.
Only a few yards away, but today shockingly split from the city by the Queensway ring road, is St Chad's Roman Catholic Cathedral, built 1839-41, designed by A W N Pugin and described by Andy Foster as "a landmark in the Gothic Revival". This was the first Catholic cathedral to be built in England since the Reformation, reflected Birmingham's significant Catholic (and presumably Irish) population, and replaced a Georgian classical chapel of 1808. Cardinal John Henry Newman preached here at Bishop Ullathorne's enthronement as first Bishop of Birmingham. Brick-built and twin-towered, with broach spires, the building has clear north German influence and, returning to our earlier comparison, would not be out of place in Düsseldorf or the Ruhr. The cathedral had a remarkable escape from destruction in 1940 when a bomb exploded here, only to shatter the pipes - whose water quickly extinguished the flames.
Another surviving church is St Paul's (NW quarter), built in the 1770s as a chapel-of-ease, on a site given by Charles Colmore, and assigned a parish in 1841. This largely served what is known as the jewellers' quarter of the town - we note the Assay Office nearby - and was designed by a Wolverhampton surveyor, Roger Eykyn in a style said to be much influenced by James Gibbs; Samuel Wyatt is said to have acted as architectural advisor. The octagonal tower and spire were added in the 1820s by Francis Goodwin. A curate from 1797, and later incumbent, was Rann Kennedy (1772-1851), a master at King Edward's School, friend of Coleridge and accomplished poet himself, once famous for such odes as A Poem on the Death of Princess Charlotte of Wales. In 1840 he dedicated his Spencerian epic, Reign of Youth to the Queen on the occasion of her marriage:
Love woke, and moving with empassion'd grace,
Attemper'd to the music of her thought,
She look'd as one that trod the liquid air,
Reflected radiance blush'd upon her face.
The church, often known as the Jewellers' Church, stands in the city's last remaining Georgian square - though few of the original buildings survive - and is also notable for its surviving E window, designed by Benjamin West in 1791.
The other churches shown here date overwhelmingly from the 19th century. They include St Asaph's (bottom margin), consecrated in 1868. It was designed by Yeoville Thomason, an architect responsible for several of Birmingham's finest municipal buildings, in a Decorated Gothic style and built right up to the pavement at the junction of Latimer Street and Great Colmore Street; a planned tower was never completed. This was a very poor area of town - the map shows a labyrinth of back-to-backs - and the church closed in 1949 as the surrounding streets were cleared for redevelopment. Some fittings were transferred to St Luke's, Bristol Street, before demolition c.1960.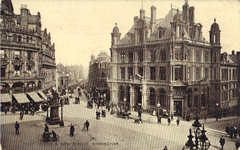 St Thomas' church (SW corner) was a Waterloo church, consecrated in 1829, a Greek Revival building designed by Thomas Rickman. It was assigned a parish in 1834. The church was largely destroyed by bombs in 1940 although the tower and west portico were left standing and in 1953 they became the principal features of a small public park, created at the time of the Coronation; in 1990 it became the St Thomas' Peace Garden. The gardens were redesigned in 1995 to commemorate the end of the 2nd World War, and when the G8 leaders assembled in Birmingham in 1998, each planted a tree here.
Finally, St Jude's, on Hill Street, was a Commissioners' church, built in 1851 to serve the wretched rookeries or near-criminal slums of this central area. The very worst of the slums were cleared in the late 19th century but the parish remained poor, one curate remembering how, in the 1890s, "Parts of the parish were rather slummy, and some of the courts were certainly unsavoury. There was much poverty, for old-age pensions and widows' pensions were then unknown. I knew poor widows who made matchboxes at home, and others who sewed buttons on cards, and had to work twelve hours a day to make a bare living". The vicar was one of that great tradition that believed in visiting, and the curate, William Henry Parsons (1865-1937) noted that "There were always many sick to be visited, tuberculosis being very common. This was no wonder, considering the many back-to-back houses then existing. No parish was ever visited more thoroughly and systematically. I soon got to know every street and court, and most of the people". Gradually the parish lost its population and the church was demolished in 1971.
By the time of our map the area had become noted for its theatres, with the Alex, Hippodrome and Empire Palace nearby, while 1913 saw the opening of Barry Jackson's Repertory Theatre on Station Street. The first production was Twelfth Night and this quickly became one of the country's most exciting theatres, with an ensemble cast performing a wide-ranging repertoire in the intimate 484 seat theatre. It has often been called the first genuine repertory theatre. Sir Barry Jackson (he was knighted in 1925) formed an especially strong link with Bernard Shaw, which led to the Malvern Festival, while the 'Birmingham Rep' attracted most of the up-and-coming actors of the 1920s and '30s, including John Gielgud, Laurence Olivier and Peggy Ashcroft, the last-named making her debut here. Sir Barry also founded a Theatre School, led from 1942 by Mary Richards - and of which your writer was briefly an undistinguished pupil. What better place to end!
© Alan Godfrey, March 2014
Principal sources: William Dargue, The History of Birmingham Churches website); Andy Foster, Pevsner Architectural Guide, Birmingham (Yale, 2005); K.E.Hartley, Victoria County History of Warwickshire, Vol VII (OUP, 1964).
---
Follow this link for more details of our central Birmingham maps; or here for the whole Birmingham series.
You can order maps direct from our On-line Mapshop. For other information and prices, and other areas, go to The Index Page.
---
Maps in the Godfrey Edition are taken from the 25 inch to the mile map and reduced to about 15 inches to the mile. For a full list of maps for England, return to the England page. Alan Godfrey Maps, Prospect Business Park, Leadgate, Consett, Co Durham, DH8 7PW / sales@alangodfreymaps.co.uk / 13 August 2015