OLD ORDNANCE SURVEY MAPS: THE GODFREY EDITION
September Newsletter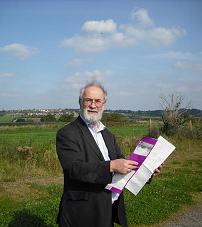 Welcome to our September Newsletter. A lot of work goes into preparing the maps. We have to find a suitable good condition map, borrow it and photograph it, dig out some directory extracts, find a photograph and see the finished work through the printers. And, of course, we have to commission the historical introduction. I write about 25 of these each year myself, concentrating recently on the Wigan area, the Mirfield/Dewsbury area (the Mirfield maps were the success story of 2008), Northern Ireland and the Ruhr. A typical research trip, in England anyway, involves a trip, if possible by train, to the place to be written about, and what Pevsner would have called a 'Perambulation', a walk of between 4 and 8 miles around the map. On the journey home I read up on any material I have managed to buy or borrow, and generally fall asleep. Then, of course, there are many hours at the laptop! Many maps entail extensive walking around the streets but sometimes it can become quite scenic. Here I am researching the Ossett SW & Combs map, chatting to a passer-by, and if I look a little concerned it is possibly because he has just told me that I have missed an excellent real-ale pub.
Each month in this Newsletter I try to mention one of our authors. Pamela Taylor has played a special part in the development of the series, and for several years in the 1980s and early '90s she acted as my London editor. She has continued to be a regular author - with 90 introductions to her credit - and is always there to advise and sooth us, and to keep us on our toes. Most of her work for us has been in and around London - some notes for the north Harrow area have been her most recent contributions - but she will shortly be going down to the South Coast to write the introductions for Eastbourne and Hastings maps.
Pamela, who lives in the heart of London, has provided me with a potted biography so I can tell you that she was born in the London Borough of Bromley, and read history at Cambridge; after an archive diploma, she gained her PhD with a thesis on the medieval endowment of the bishopric of London. She has worked as an archivist at the London Boroughs of Hammersmith & Fulham and of Barnet, and life has often been a juggling act involving family, archival work, academic research, and visits to South Asia, where her lecturer husband often works. Recently she has been spending an lot of time in Karachi, finding employment there as an editor. Her publications include some 17 books, many articles and chapters, ranging from the early medieval section of the 2004 centenary history of St Paul's to local pictorial histories.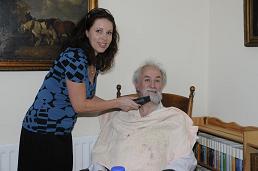 Before I got involved in my map business in the late 1970s I worked (without much success) as an actor and playwright, and never thought that I would go on the stage again. Chance comments at Christmas meant that I unearthed a translation I had made of Goethe's play Brother and Sister and three of us staged it to an invited audience in May. This has led to me taking to the stage again, in a strictly amateur capacity, resulting this week in a sacrifice that might amuse those of you who know me. The photograph shows my colleague Heike Hamilton helping with the removal of my beard!
---
Follow this link to the August, July, June, May, April and March Newsletters.
---
Alan Godfrey Maps
Prospect Business Park
Leadgate, Consett, DH8 7PW
England
Tel. (01207) 583388 or Fax (01207) 583399


Return to Index The Godfrey Edition / godfreyedition@btinternet.com revised 17 Sept 2009