OLD ORDNANCE SURVEY MAPS: THE GODFREY EDITION
March Newsletter
Welcome to our March Newsletter.
At the end of February we had a table at the Who Do You Think You Are Family History Show at Olympia and it was good to meet many of you, though there was never time for much of a chat. In fact, we were so busy that I hardly got a chance to walk round the other stands. My thanks to Jackie Depelle and to my nephew Joel Godfrey for helping out; and to Brian Garvan, who popped in on the Friday hoping for a coffee with me but found himself roped in as a helper for several hours. These shows are hard work but it does seem to have been worthwhile so I shall probably go back next year.
Some of you may have noticed a change to some of our maps - Middlewich, Prestatyn, Wimbledon and a few being published this month. Those of you who have visited our office will have seen the massive process camera we use but for a few of these recent maps we have used high quality scans. This has made it possible to publish a few maps where it has not been possible to borrow originals - eg in Ireland - while the bad weather earlier this year, making travel difficult, concentrated minds. We are also mindful of the fact that it is becoming more difficult to get the film necessary for the camera; we already have to import this from Belgium and our supplier has warned us of possible problems ahead. Of course, we use scans for some maps anyway - eg, the maps of the Ruhr - but it seemed a good time to try things out. Feedback welcome, and I shall say more about this in a future Newsletter.
---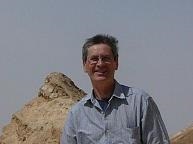 As usual in our Newsletters, I shall tell you a little about one of our authors, this month Tony Painter, who has written 44 introductions for us, ranging from Middlesex to Somerset, and even across the Channel to Normandy. Tony writes that he "worked for the MOD for 30 years for a little-known branch, responsible for acquiring and making maps of overseas countries, then called Military Survey but now rebranded as part of the more exciting sounding world of Geospatial Intelligence. A chance meeting with Alan and the slightly misplaced impression that I was an expert in military history led to an invitation back in 2002 to write the notes for the 1/2500 of Aldershot. This was an enjoyable assignment and more followed, including a number of one inch sheets which allowed the very rewarding experience of gathering a broad awareness of a larger area.
"I live in Camberley but was born in Wiltshire and still have family links with the West Country. These were strengthened recently while I was working and living in Somerset and enabled me to extend my range to Somerset, Wilts and Dorset. That area also allows me to indulge some other interests such as place names and railways.
"I like to think I have sung the praises of some fairly (by todayís standards) undistinguished places but, just below the first impressions of concrete town centres and supermarkets is often a fascinating story of long vanished industries and social history. Rare is the town which does not boast a modest local history of itself.
"Over the last eight years I have had the good fortune to work on several dozen sheets. Some of the highlights were the notes for sheets where I grew up, live and work, and visiting Normandy for two D Day maps. Every one has produced a nugget of interest which I didnít know about before and hopefully will have spread the knowledge to a wider audience. There is simply nothing better than driving the country lanes or walking the back streets in search of obscure hidden details and exploring the local libraries, museums or discussing local history with local worthies and that most knowledgeable breed, the pub landlord!"
---
Follow this link to the February, January 2010 Newsletters, and the December, November, October, September, August, July, June, May, April and March 2009 Newsletters.
---
Alan Godfrey Maps
Prospect Business Park
Leadgate, Consett, DH8 7PW
England
Tel. (01207) 583388 or Fax (01207) 583399


Return to Index The Godfrey Edition / godfreyedition@btinternet.com revised 17 March 2010