OLD ORDNANCE SURVEY MAPS: THE GODFREY EDITION
June Newsletter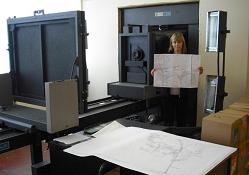 We enjoy showing parties of visitors around our office from time to time (by prior appointment, of course), and a feature that always amazes them is our camera, a Littlejohn 231 process camera. With this we produce extremely clear A2 size negatives, which is why the lettering on our maps is normally so sharp. Of course, we use quality scans where necessary, as with our current series of maps of the Ruhr, but the old fashioned ways are still sometimes the best and it will be a sad day when we are unable to get the film for the camera!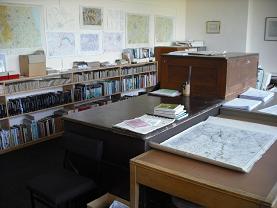 Visitors are also shown our library. Of course, we work closely with other libraries and record offices, and most maps come from them, but we have built up a useful collection of maps, books, postcards and directories, the latter especially good for the directory extracts we try to put on the back of the maps. (Before anyone asks, I should say that the library is just for use by ourselves and our authors; we do not have the staffing to allow visitors to use it.)
I hope most months to be able to introduce you to one or two of our authors through this newsletter. When I started this series, back in 1981, only short historical notes of a few hundred words were included, but from about 1983 we began to build on this feature, and today's authors are allowed some 3,000 words. The historical introductions have, I think, become a major feature of the series. An author who pushed me in this direction more than most was Barbara Morris, who started writing historical notes for our Edinburgh maps back in 1983, and who is still writing for us today; her latest effort, for an Edinburgh (Western New Town) map, should be out before the end of this month. Barbara has a fascinating cv, including work in the 1960s at the Foreign Office (where I gather one duty was to steer a Secretary of State away from the drinks table) to Map Librarian at the University of Edinburgh, Project Planner at HarperCollins, and a Computer Project Officer, working on the Digimap programme. Ever busy, she currently finds time to act as a Planning Advisor on Listed Buildings around Berwickshire. During the 1980s she acted as my Scottish Editor, helping develop what was then a fledgling series. She has, I think, written 23 introductions for us, mostly in and around Edinburgh, but also including two for her native Belfast; but her input into the series has been a great deal stronger than that figure implies.
We haven't published many maps for Ireland over the last few years. I am especially fond of Northern Ireland and during the late 1980s and early 1990s published quite a few maps there, including some for Tyrone and Fermanagh which provided me with pleasure rather than profit! Several of these comprised an Inch to the Mile map on one side, one or more town or village plans on the other, which was a nice way of bringing places like Clogher, Lisnaskea and Castlederg into the series.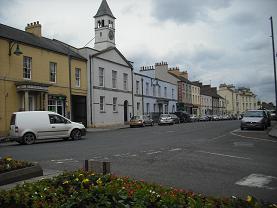 We have now decided to build on this nucleus of ten 'Inch to the Mile' maps, and extend it to cover the whole of Ulster - ie the six Northern Ireland counties, plus Cavan, Monaghan and (hopefully) Donegal. The new titles will be to a similar format to the 'Inch to the Mile' maps we publish in England and Wales: ie the one inch map on one side, a plan of a small town or village plus historical introduction on the reverse. The bad news, perhaps, is that I plan to write most of these introductions myself, giving me an excuse to explore an area I love. The first title in this new project, for Downpatrick, Portaferry & Ballynahinch, has just been published and we hope to proceed at about one map a month. With this in mind I have just been over to Northern Ireland, researching a couple of titles and, as a little teaser, here is a photo of a town we expect to feature soon, probably in August. I think I shall let it remain anonymous for the moment - it's always nice to keep you guessing!
---
Follow this link to the May, April and March Newsletters.
---
Alan Godfrey Maps
Prospect Business Park
Leadgate, Consett, DH8 7PW
England
Tel. (01207) 583388 or Fax (01207) 583399


Return to Index The Godfrey Edition / godfreyedition@btinternet.com revised 17 June 2009