OLD ORDNANCE SURVEY MAPS: THE GODFREY EDITION
July Newsletter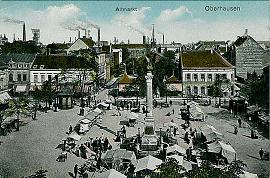 Welcome to our July Newsletter. As usual, I've been out and about, researching maps, and since the last Newsletter have made trips to Oberhausen in the Ruhr and Wigan, both areas I greatly enjoy writing about. Although I had been through Oberhausen on the train, I had never actually visited the town before and can strongly recommend it, and in particular the Gasometer, once the highest in Europe at 67 metres (about two thirds the height of Blackpool Tower) which has now been converted into an Exhibition Centre, with an extrordinary display on the solar system. The setting in this dark, almost surreal setting is quite awesome. And afterwards you can get the lift which takes you - almost - to the top, and after a few staircases (outside!) you are on the roof, with a magnificent view across the Ruhr. Well worth conquering my vertigo!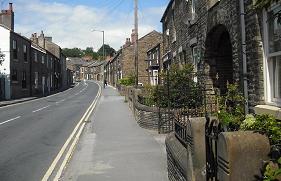 Wigan is more familiar territory, of course, and we have been publishing maps here since the 1980s. It is a town I enjoy writing about partly, perhaps, because there is quite good source material on the railways and collieries, and the suburbs are normally enjoyable to walk around, to 'perambulate' as Pevsner would have said. A problem here in the past has been finding cover photographs, as we cannot always afford the fees charged by museums. However, I am now receiving some help, thanks to the www.wiganworld.co.uk website, and so plan to move ahead quite quickly, initially with maps for the west of the town - Orrell, Lamberhead Green, Upholland etc - and a fortnight ago had two splendid days walking around. It is always a surprising how rural these walks can become, despite the M6 which carves through the area.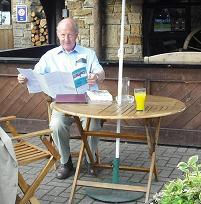 Some of you will be saying something like "It's all right him gallivanting around Wigan and Oberhausen but what about us!" Well, I have come to a stage in life when I can (just about) choose the maps I want to research, but we do have other authors. The most productive of all has been Barrie Trinder, who has written more than 100 introductions for us. Barrie is one of the country's most highly respected local historians - one of our other authors described him as her guru - and is perhaps best known for his work in Shropshire, especially the Coalbrookdale area and its industrial history. However, his expertise goes beyond the one county and he has been, inter alia, editor of the Bulletin of the International Committee on the Conservation of the Industrial Heritage, and editor of the Blackwell Encyclopedia of Industrial Archaeology. He has a website at www.trinderhistory.co.uk which lists many of his books and forthcoming projects. Recently he has been helping us press ahead with coverage of the Inch to the Mile series, and is also writing the notes for some forthcoming Nottinghamshire maps.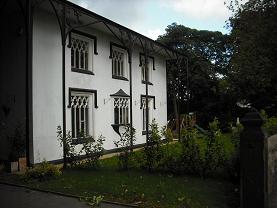 Many of you ask how we choose which maps to publish. Partly it can be luck - availability of original maps, good authors, potential stockists - and partly a desire to have a reasonable balance across the country. We get lots of requests for individual towns - within the last week I have had requests for maps of Cologne, Cricklade, Dusseldorf, Pateley Bridge, Radyr and Wareham - but in truth we are aware that everywhere is interesting. The so-called 'historic towns' are not necessarily the bestsellers, so generally I just follow my own instinct. Hopefully over the course of a year there will be something for most people. And the photo left shows just the sort of surprise that always awaits me on my researches. Who would have expected this house in Wigan?
---
Follow this link to the May, May, April and March Newsletters.
---
Alan Godfrey Maps
Prospect Business Park
Leadgate, Consett, DH8 7PW
England
Tel. (01207) 583388 or Fax (01207) 583399


Return to Index The Godfrey Edition / godfreyedition@btinternet.com revised 20 July 2009