OLD ORDNANCE SURVEY MAPS: THE GODFREY EDITION
August Newsletter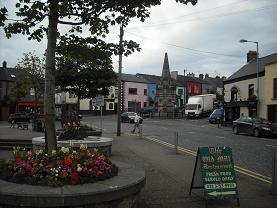 Welcome to our August Newsletter. Since the last Newsletter I've been out and about, as ever, visits this month including south Armagh - where I admired this marvellous monument in Keady - and across the border into Co Monagahan. Although our current publishing programme in Ireland is concentrated on the 'Six Counties', we do hope to issue some in the Republic - perhaps it's time I had another look at Dublin!
We issued maps for Northern Ireland quite early in the series, but for many years rather neglected Wales. However, I think we are now making up for lost time, especially with numerous maps for Glamorgan and Monmouthshire coming off the printing press. Much of this has been made possible through the enthusiasm and knowledge of Derrick Pratt, who will soon have provided 100 introductions for our maps, only the third such author to write so many (after Barrie Trinder and myself, which perhaps says something about the influence of Shropshire air).
Derrick, who lives in Oswestry, has provided me with a potted biography so I can tell you that he was born at Acrefair, east Denbighshire, in 1931, studied geography and German at Aberystwyth, and later read medieval British history. He did National Service with the Army in Malaya and will probably be asking to write notes there soon. He was Deputy Headmaster of Maelor School, Penley, has lectured extensively on local history, and has published 19 books plus 131 articles in learned journals, and 704 columns for the Wrexham Leader. He was twice winner of the Bishop David Bartlett Memorial Prize for ecclesiastical history, has written extensively on the history of aviation in NE Wales and adjacent counties - the fourth volume of Wings Across the Border is in preparation. His interests and publications stretch to canals, tramways, railways, markets, lead mining, the Home Guard, decoy sites and much more! My colleague Suzanne receives frequent phone calls from him which run along the lines of "Can you find me something to write - I'm bored!" As he says, his "Interests are varied and wide ranging - like all good geographers virtually anything in the landscape". His days of gallivanting about the landscape may be over, but he has copious field notes and a wide knowledge to draw upon.
One date for your diaries is Saturday 12th September where Chris Makepeace will have a stall with virtually all our maps ate the National Family History Fair at Gateshead.
Those of you who go to Family History Fairs, especially in the north of England, may sometimes have seen an exotic creature promenading in the aisles. Jackie Depelle, who gives many talks on aspects of family history, often wears a 'hat fantastical' so that she can be seen above the scrum at these fairs. For some time Jackie has been giving us advice and encouragement, especially around her native Yorkshire, and she has now agreed to help us on a more regular basis, while continuing with all her other projects. You know what they say: 'Ask a busy person....'. Jackie organises several family history fairs and seminars herself, including a recent one in Bradford on medieval history, as part of the Your Fair Ladies team, and has a website. We are absolutely delighted to welcome her to our team, and some of her work for us will, I believe, be food for future Newsletters.
And for those interested in fashion, here is a close up of the hat!
---
Follow this link to the July, June, May, April and March Newsletters.
---
Alan Godfrey Maps
Prospect Business Park
Leadgate, Consett, DH8 7PW
England
Tel. (01207) 583388 or Fax (01207) 583399


Return to Index The Godfrey Edition / godfreyedition@btinternet.com revised 18 August 2009