OLD ORDNANCE SURVEY MAPS: THE GODFREY EDITION
April Newsletter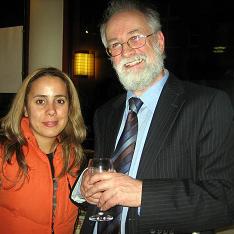 The highlight of March was our sponsorship of an opera - Donizetti's Elixir of Love, performed by Swansea City Opera, at Consett's Empire Theatre. This was not just an opportunity to enjoy fine music, but a chance to bring some of our authors together. We were delighted to welcome seven of our authors, plus several other supporters, to the opera and reception, and most were able to stay overnight and come over to the office the next morning to discuss the future of the series. We all benefit from such occasions. The photo here is of myself at the reception with soprano Lara Martins, who played Adina (or Angharad as they called her in this Welsh staging).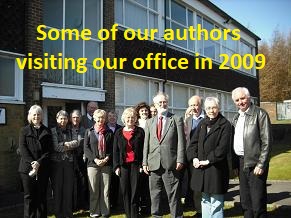 Here is a photo of the gathering outside our office on the Friday morning. In case any of you are wondering who they are, here are the names, left to right: Jackie Depelle, Frances Hounsell, Peter Hounsell, Chris Makepeace, Kay Parrott, Hilary Makepeace, Elizabeth Melrose, Mary Spence, Heike Hamilton (hidden), Alan Godfrey, Suzanne Doherty (hidden), Barrie Trinder, Pamela Taylor, Brian Garvan. The two staff members are a shy lot, as you can see; Donna and Liz didn't even get into camera range.
I myself have just spent a good chunk of the Easter bank holiday hunched over my laptop writing the notes for a new Inch to the Mile map, sheet 43, Grosmont & the North York Moors. There is no need to spend too much sympathy for me as I was able to spend last Tuesday walking in Rosedale, then exploring Lastingham and Grosmont, as part of the research for the map. Field trips such as this are the best bit of my job, and it made a nice change from the previous week, when I had been exploring the streets (and canal bank) west of Wigan! The Grosmont map should be out in late April or early May and bring us nearer to complete coverage for northern England in the Inch to the mile series. We do hope to complete coverage north of the Thames by the autumn - there are only six maps to go - and of the rest of England by the end of 2010.
On a sadder note, we recently heard of the death, in February, of one of our authors, Alan A Jackson. Not only did he contribute around 16 essays for our maps, mostly of outer London or Surrey, but he was the first to suggest we should advance into the 1930s; it is a great shame that he was not able to contribute more for the maps of that era. Railway historians in particular will know Alan for his superb books on the railways of the South East, including London's Railway Termini, London's Local Railways (of immense usefulness to me), London's Metroland and others. I have recently been using articles he wrote 50 years ago, 'North West from Ealing', in the Railway Magazine of 1959. But his knowledge and interest were not confined to railways and his books are true social histories; his volume Semi Detached London is a classic portrayal of suburban development. He was a major historian, and we are privileged to have been able to count him among our authors.
---
Follow this link to the March Newsletter
---
Alan Godfrey Maps
Prospect Business Park
Leadgate, Consett, DH8 7PW
England
Tel. (01207) 583388 or Fax (01207) 583399


Return to Index The Godfrey Edition / godfreyedition@btinternet.com revised 15 April 2009